It can sometimes be tough to hear an agent asking you to hide your prize possessions when preparing your home for sale. I overheard two agents giving each other advice about how to politely help their sellers relocate their pink flamingo display and car collection off the front yard before putting the homes on the market.
Studies indicate that buyers decide if they're interested within the first 30 seconds 
of entering a home. You get one chance to make a first impression.
Make sure your house looks attractive, well maintained and move-in ready at a glance. Before you put out your "for sale" sign, put these tasks on your to do list.
•  Get your yard in shape—Mow the lawn, trim the hedges, haul away debris, sweep the walk, porches and patio, and consider adding some potted plants or hanging baskets for a touch of color.
•  Keep it clean—Make sure your house can pass the white-glove test. Polish windows and scrub bathrooms, appliances, counters and floors until they gleam. Vacuum carpets, rugs, drapes and upholstery. Dust shelves, floorboards and molding.
• Give it a fresh coat—Paint the front door, walls leading to entrances, ceiling stains, cracks, chipped or damaged areas. A little paint goes a long way to improve the look of your home.
• Just fix it—Repair anything that needs it, including broken doorbells, torn screens, leaky faucets, broken deck railings or banisters, damaged floor tiles or doors that don't close properly.
• Lose the chaos—Organize your rooms, closets and basement—anywhere a prospective buyer is likely to look.  And don't forget to remove pets and litter boxes.
• Set the stage—Help prospective buyers imagine life in your house. Remove excess furniture and rearrange what remains so that rooms look spacious and welcoming. Light scented candles, play soft music, add flowers here and there, you might even bake cookies.
• Hire a pro—Don't have time to get your house ready to show? Turn to a realtor with an ASP® (Accredited Staging Professional) designation to stage your house professionally.
Windermere Real Estate, the largest regional brokerage in the Western U.S. is celebrating its second year in the Denver market this month.  After just two years, the Seattle-based company now ranks in the top 3% of all real estate brokerage companies in the metropolitan area.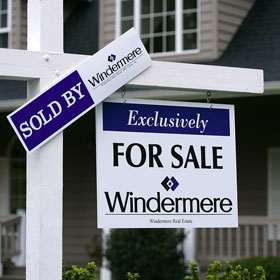 While Windermere has been growing over the last two years, metro Denver homeowners have been benefitting from the robust growth in real estate prices.  According to the latest report from the Federal Housing Finance Authority, Denver ranks 14th out of 258 metropolitan areas for home price appreciation with 10.14% growth over the last 12 months.
This appreciation rate is nearly double the long-term average of 5.8%.  Prices in metro Denver have been appreciating at double-digit rates for the last four years in a row.  The average price of a single-family home now stands at $448,000.  Just two years ago, when Windermere started in Metro Denver, the average price was $371,000.
"For four years now we have had the perfect storm to cause prices to increase at a rate that is nearly double the long-term average.  Metro Denver is one of the fastest growing populations in the country, we have an incredibly healthy economy with high employment, interest rates that are roughly half of the long-term average, and the inventory of homes is at all-time lows," said Eric Thompson president of Windermere Real Estate in Colorado.
There are only 2,918 single family homes currently for sale in Metro Denver, 7.8% lower than a year ago.  "With tight supply and strong demand, we see expect very strong price appreciation for the foreseeable future," said Thompson.
About Windermere Colorado:
Since its inception in 1972, Windermere Real Estate has grown to be a network of 300 offices with more than 6,000 agents by focusing on three basic principles: hire the best people, give them the best tools and create thriving communities. Windermere's growth has allowed them to expand into the Colorado market led by Eric Thompson, President of Windermere Colorado. 
Centennial Office: www.Windermere5280.com
Cherry Creek office: www.wmdre.com