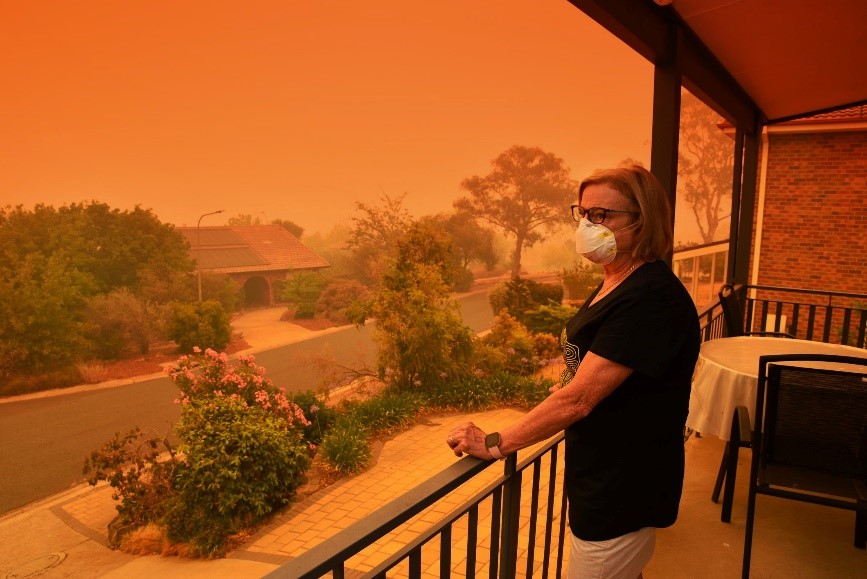 Image Source: Getty Images
As wildfires rage throughout the West Coast, many homeowners are being evacuated from their homes, while others stand by for information as the spread continues. The following tips are meant to inform your household's wildfire evacuation protocol, whatever your evacuation timeline may be.
 Immediate evacuation
Evacuation orders come from local law enforcement agencies, but if you have not received an official evacuation notice and feel threatened by wildfires in your area, do not hesitate to leave. Take only essential vehicles on the road, this will minimize traffic and reduce the chance of gridlock when evacuating the area. Keep the windows rolled up to avoid inhaling smoke and tune into local radio for updates as you head toward safer ground. And remember your masks!
 What to bring 
The Six P's
People and pets
Phones and personal computer

Chargers, any additional computer hardware

Papers and important documents

Birth certificates, passports, insurance, legal documents

Prescriptions

Medication, eyeglasses, contacts

Pictures and irreplaceable keepsakes
Payment (credit & debit cards, bank cards, cash)
Go bag
Face masks or coverings
Extra clothing
First aid kit
Toiletries
Tools
Flashlight
Batteries
Sanitation supplies
Copies of important documents
Three-day supply of food and water
Evacuation Preparation 
If you live in an area that is not being evacuated, there are steps you can take now to prepare your home and family, if and when the time comes.
Create a "defensible space"

Clear your home's surroundings of brush and vegetation

Turn off sprinklers and main gas lines
Clean out roof and gutters
Move furniture away from windows toward the center of the room
Remove flammable household items
Prepare your emergency kit

Include useful items listed above in "Go bag"
For additional information on protecting yourself from smoke while addressing COVID-19 health concerns, Click Here. Be sure to check your local news and emergency alert radio stations and social media profiles for the most up-to-date information and helpful resources.
Wildfires are unpredictable. Knowing what to do both in preparation for and during an emergency evacuation will have your household prepared in the event that a wildfire spreads to your area, neighborhood, or home.
Posted on September 16, 2020 at 11:00 am
Windermere Colorado
Category:

Blog, Home Owner
Tagged

Defensible Space, emergency kit, Essentials, Evacuation, Go Bag, Homeowners, Preparation, Six P's, Threat, Tips, wildfires
As the days shorten, you can mitigate many mid-winter headaches with some preemptive prep. Proper weatherizing can help protect your home from preventable damage, save money on energy costs, and, most importantly, keep you and your loved ones safe and warm throughout the winter season. Here is a useful checklist to manage your weatherization project. Setting aside some time on a couple of weekend days should be more than enough to knock this out:
Cracks & Leaks
Examine your entire house for any cracks and leaks, from your roof to your baseboards, to your basement and foundation. With unpredictable winter weather, these cracks and leaks are how the outside gets in, causing cold drafts and water damage.
Luckily, most cracks don't require a professional to handle it. Depending on your house type and age, it's likely you'll be able to do it yourself with supplies from your local hardware store.
Windows & Doors:
Gaps and breaks in windows and doors is another way to let the winter in your home, and they can let heat escape, raising your heat bill throughout the season.
Make sure seals are tight and no leaks exist. If you have storm windows, make sure you put them on before the cold season begins. Additionally, add weather-strips and or a door sweep to prevent drafts and keep the heat in.
Rain Gutters: 
Clean your rain gutters of any debris. In colder climates, the buildup will cause gutters to freeze with ice, crack and then leak.
Once you have removed the residue from the drains, test them by running hose water to make sure cracks and leaks have not already formed. Even in warmer locales, the buildup can put undue stress on your roof and home.
Pipes: 
Protecting your pipes from freezing should be your number one priority this winter. A burst pipe can quickly become a disaster in any home.
Remember to turn off your exterior water source and take in your hose. Internally, wrapping your pipes is a recommended precaution to take.
Heating System:
Annual checks are vital in avoiding dangers such as house fires. Replace filters if you use a furnace and clear out any vents and ducts that carry heat through them. If you have baseboard heat, wipe them of dust and remove any debris that might catch fire.
Fireplace & Wood Burning Stoves:
Make sure to have chimneys and air vents cleaned early in the season if you are planning on warming your home with a wood-burning source. When your fireplace is not in use make sure to close the damper, some resources estimate an open damper can increase energy consumption by as much as 30%, increasing your bill about $200.
Outside: 
Bring your patio furniture inside or cover it for the winter. Don't forget other, smaller items such as your tools, including the hose and planting pots. Clear out any piles around the side of your house, checking for cracks and holes in your home and foundation as you go so to avoid providing shelter for unwelcome guests over the cold season.
If your property has large trees check for loose branches and call someone to trim back any limbs that may fall in your yard, on your roof or even damage a window.
Emergency Kit: 
Lastly, make sure your emergency kit is up to date with provisions, batteries, fresh water, food for animals, entertainment for kids – especially if you live in an area prone to power outages.
For a more complete emergency preparedness guide, visit https://www.ready.gov/winter-weather.
Posted on October 10, 2019 at 6:51 pm
Windermere Colorado
Category:

Home Owner, Living
Tagged

baseboards, basement, cracks, cracks and leaks, emergency kit, fireplace, gutters, leaks, pipes, Prepare your home for winter, prevent frozen pipes, rain gutters, Roof, winterize, wood burning stove
After last year's wildfires, some of the largest and deadliest in recent memory, spread along the west coast, homeowners are on edge as to what this fire season will bring. The questions of whether their home will be burnt, or if they will be affected by poor air quality, hang in the air much like the smoke of a nearby fire. Accompanied by heatwaves hitting much of the U.S. these fears can turn into realities just as quick as a spark in brush. Luckily there are ways to prevent damage and to prepare for anything coming your way.
Be prepared with fire insurance
Are you currently protected in case of a fire? Make sure to talk with your insurance agent and work on a plan to insure your home.
Questions to ask them are:
What is covered should our home be destroyed in a fire?
What kinds of documentation do we need to do in order to get the full benefit of the insurance?

It's usually a great idea to keep a log of what is in your home and how much it costs. Keep receipts and invoices if possible.

Who at the company should we contact in case of emergency?
Be prepared with an emergency kit
Cal Fire has a comprehensive guide to all things wildfire preparedness. Here they suggest putting together an emergency kit that's always ready in case of sudden evacuations. They recommend including:
Map marked with at least two evacuation routes
Non-perishable foods to last three days
Prescriptions and medications. Also, eyeglasses or contact lenses.
Change of clothes
Toiletries and sanitation supplies
And extra set of car keys, as well as credit cards, cash or traveler's checks
First aid kit
Flashlight and batteries
Copies of important documents like birth certificates and passports
Food and water for your pet
Chargers for cell phones and other devices
Some other items you might consider having close by are easily carried valuables, sentimental items like family photos, and computers or hard drives. Keep a sturdy pair of shoes and a flashlight near your bed for any evacuations at night.
Prevent damage by fortifying the building
Fire-Safe Landscaping
You don't have to re-do the entire garden to slow the fire down. Home Advisor recommends you create a balance of aesthetically pleasing flora and slow-burning plants that are less likely to ignite.
Additionally, keep your garden and property free of dry materials that are ideal for kindling either in your bonfire or for a wildfire. Not only does creating this barrier protect your home, it also gives firefighters a safe area to work from as they work to control the fire.
To see what plants to use and other ways to fireproof your property, visit HomeAdvisor.
Build or remodel with flame-resistant materials
Materials like brick, stucco, metal, or concrete are great exteriors that can prevent the fire from taking hold of your home, at least initially. If your home is already built with one of these materials, the weak points might lie in your extremities like your deck or porch. Consider re-building these with fire-proof materials or add a coating to protect them.
Additionally, protect the most vulnerable areas of your home, like your windows and any air vents. Add retractable fireproof panels to your windows or replace the glass with wire glass or fire-proof safety glass. Don't forget your skylights or windows on your doors.