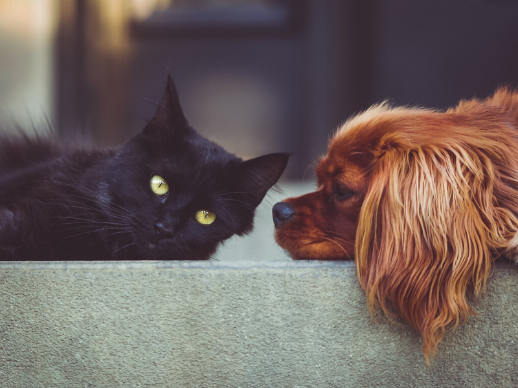 Image source: Canva
For many of us, pets play a central role in our home life, so taking into account what is best for them when buying a home is important for both their happiness and that of your entire household.
Your neighborhood
When looking for homes that are well suited to both you and your furry companion, consider the area surrounding the home. If your pet is an indoor/outdoor animal, it's important to examine the hustle and bustle of the neighborhood. If your pet spends time outside, a busy neighborhood could be dangerous, and depending on the level of traffic, he or she may need to be on a leash at all times.
How conducive is the neighborhood for taking your pet on walks? If you frequently walk your pet, look for neighborhoods with sidewalks. If your pet enjoys being off-leash, consider prioritizing homes with green belts, parks, trails, or designated off-leash areas nearby. It's also a good idea to identify where the local emergency pet centers and veterinarian clinics are to insure there is sufficient medical care for your pet in proximity to where you live.
Your House
Size: Is the house big enough? Depending on the type of pet, or breed of animal, space may be the most important factor in picking a pet-friendly home. If you are moving into a bigger space than you were in previously, understand your pet will likely take to the additional room differently. On the flip side, if you are downsizing, be mindful of how it might impact your pet.
Yard: If you have a pet that spends time outside, it's important to pay particular attention to the yard. Is it large enough? Does it have a secure fence? Is there easy access between the home and the yard?
Flooring: Pet-friendly flooring can be tough. Surfaces that can be repaired or refinished when scratched are typically the best options for homes with pets. Sealing additional layers will build up the resistance to damage from paws, claws, and general pet wear and tear.
Carpet: Cats are notorious for clawing and scratching at carpet, and dogs are infamous for bringing the outdoors in with them. Consider carpeting of a lesser quality in the area where your pets spend most of the time, or search for carpets that are stain-resistant and easy to clean.
Stairs: Older pets and multileveled homes are at odds. Consider the age of your pet and how active you expect them to be so that you don't find yourself in a position where you're having to carry your pet between floors.
HOA?
When looking at a home, ask whether or not it is a part of a Homeowners Association and what restrictions may apply to the property. For instance, certain HOA developments limit the number and/or type of pets per household.
Most pet owners take the needs of their pets seriously. In fact, in a recent Realtor.com survey, 75 percent of the respondents said they would not accept an otherwise perfect home if it didn't meet the needs of their pet. When it comes down to it, prioritizing your pet when buying a home not only insures your pet's well-being, but that of your household, as well.
Posted on August 26, 2020 at 11:00 am
Windermere Colorado
Category:

Colorado Housing, For Buyers
Tagged

carpet, Designated Off-leash Area, flooring, Furry Companion, Green Belts, HOA, Homeowners Association, Indoor Animal, Leash, Limited Number, Local Emergency Pet Center, neighborhood, Outdoor Animal, Parks, Pet Type, Proximity, Restrictions, Sidewalks, Size, Stairs, Surroundings, Trails, Veterinarian Clinic, Walks, yard
Every component of your home has a lifespan. Common questions asked by homeowners include when to replace the flooring or how long to expect their siding to last. This information can help when budgeting for improvements or deciding between repairing and replacing when the time comes. We're all familiar with the cliché: They just don't build things like they used to. And while this may be true when it comes to brick siding or slate roofing, lifespans of other household components have increased in recent years. Here are the life expectancies of the most common household items (courtesy of NAHB):
Appliances: Among major appliances, gas ranges have a longer life expectancy than things like dishwashers and microwaves.
| | |
| --- | --- |
| Appliance | Life Expectancy |
|  Oil-burning Furnace |  20 years |
|  Heat Pump |  16 years |
|  Gas Range |  15 years |
|  Electric range / Refrigerator / Dryer |  13 years |
|  Electric / Gas Water Heater |  10 years |
|  Garbage disposal |  10 years |
|  Dishwasher / Microwave / Mini Fridge |   9 years |
Kitchen & Bath: When choosing your countertops, factor in the life expectancies of different materials.
| | |
| --- | --- |
| Kitchen / Bath Item | Life Expectancy |
|  Wood / Tile / Natural Stone Countertops |  Lifetime |
|  Toilets (parts will require maintenance) |  50+ years |
|  Stainless steel sink |  30+ years |
|  Bathroom faucet |  20+ years |
|  Cultured marble countertops |  20 years |
|  Kitchen faucet |  15 years |
Flooring: If you're looking for longevity, wood floors are the way to go. Certain rooms in your home will be better suited for carpeting, but you can expect they'll need replacing within a decade.
| | |
| --- | --- |
| Flooring Material | Life Expectancy |
|  Wood / Bamboo |  Lifetime |
|  Brick Pavers / Granite / Marble / Slate |  100+ years |
|  Linoleum |  25 years |
|  Carpet |  8 – 10 years |
Siding & Roofing: When choosing roofing and siding for your home, climate and maintenance level factor into the life expectancy of the material. However, brick siding and slate roofing are known to be dependable for decades.
| | |
| --- | --- |
| Siding / Roofing Material  | Life Expectancy |
|  Brick Siding |  100+ years |
|  Aluminum Siding |  80 years |
|  Slate / Tile Roofing |  50+ years |
|  Wood Shingles |  30 years |
|  Wood Siding |  10 – 100 years (depending on climate) |
Are extended warranties warranted?
Extended warranties, also known as service contracts or service agreements, are sold for all types of household items from appliances to electronics. They cover service calls and repairs for a specified time beyond the manufacturer's standard warranty.
You will have to consider whether the cost is worth it to you. For some, it brings a much-needed peace of mind when making such a large purchase. Also consider if the cost outweighs the value of the item. In some cases it may be less expensive to replace a broken appliance than to pay for insurance or a warranty.
Posted on March 27, 2020 at 8:00 am
Windermere Colorado
Category:

Home Owner, Living
Tagged

countertops, dishwasher, dryer, electric range, electric water heater, extended warranties, faucet, flooring, furnace, garbage disposal, gas range oven, gas water heater, life expectancy, Lifespan, marble countertops, microwave, refrigerator, siding, stainless steel sinks, toilets
Investing in a home is a great way to build passive income but earning from your investment will take a little groundwork to become a well-oiled machine. This is your beginner's guide to owning an investment property so you can set up that foundation properly to avoid future headaches.
Make sure it's livable
It's important to start with your home inspection before you start making plans. Use the inspection report to prioritize the maintenance issues.
Before a tenant moves in, make sure the home is livable. Handle the important items that affect the livability of the property, either now or in the near future. If the inspector noticed a leak in the roof or holes that could lead to infestation, take care of those first. Other maintenance issues to prioritize are the fuel and the hot water source.
If your city has inspection and registration requirements, be sure to cross check those inspection checklists with your current property. If the property wouldn't pass now, make sure it will pass by the time the city sees it.
Upgrade the space
Once your property is in livable condition, it's time to upgrade. If you have any left-over budget after the necessities are handled, consider adding a bedroom or a bathroom where you can find the space. These rooms heavily impact the rental price, and the more you have the higher the price. If there's no space for another bed or bath, think about finishing the basement or upgrading some of the appliances to make the property more attractive to potential tenants.
Use similar properties in your neighborhood as your inspiration. These units are your competition, think about what you can add, or even take away, that would help you compete. Ask yourself what about your home is unique and in what ways does that affect your rentability? If every unit in your area has hardwoods, how can you make your carpeted home appealing? Maybe new carpet? Or is switching to hardwoods, or vinyl laminate that looks like wood, worth it?
Market it to future tenants
You need two things in your listing: 1) Great Photos 2) An Amazing Description
After you've perfected the property, it's time to tell potential tenants that it's available. Creating the listing is essential in drawing eyes on the unit so you can show it to as many people as possible.
Renters looking to move are quick to make their first impression of a property with thumbnail photos on a map. So, take lots of great, bright, photos of the entire place to showcase the amenities and show potential tenants what it looks like, then choose the best photo to be the first in the lineup. Remember to get the lighting is just right to show every corner of the listing. Dark photos scare tenants away, making them think the unit is dingy and dirty. Light and bright photos show a clean home that's move-in ready. They can imagine themselves living there a lot easier than in dark and cramped looking units.
Next, they'll read the description. This is again where other listings in your area can help you.
Read other listings to structure your description and to draw inspiration on what tenants might think is important. Find the selling points and emphasize those above the unique features, especially if those unique features are obvious in the photos.
Posted on November 18, 2019 at 10:15 pm
Windermere Colorado
Category:

For Buyers, For Sellers, Rentals
Tagged

bathrooms, bedrooms, condition, condition of the home, description, flooring, great photos, Hardwood floors, inspection report, Investment, investment property, laminate, livable, maintenance, neighborhood inspiration, new carpet, photos, Rent, rental price, rental prices, renters, updates