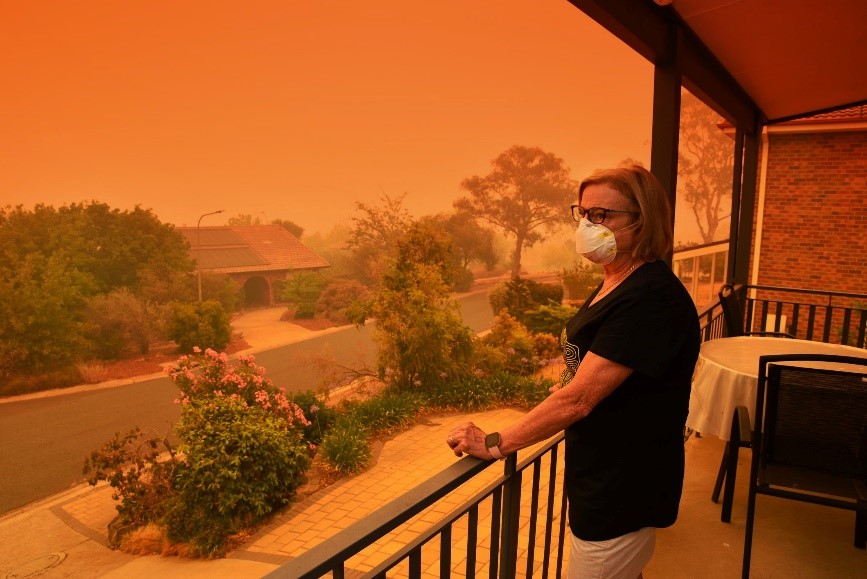 Image Source: Getty Images
As wildfires rage throughout the West Coast, many homeowners are being evacuated from their homes, while others stand by for information as the spread continues. The following tips are meant to inform your household's wildfire evacuation protocol, whatever your evacuation timeline may be.
 Immediate evacuation
Evacuation orders come from local law enforcement agencies, but if you have not received an official evacuation notice and feel threatened by wildfires in your area, do not hesitate to leave. Take only essential vehicles on the road, this will minimize traffic and reduce the chance of gridlock when evacuating the area. Keep the windows rolled up to avoid inhaling smoke and tune into local radio for updates as you head toward safer ground. And remember your masks!
 What to bring 
The Six P's
People and pets
Phones and personal computer

Chargers, any additional computer hardware

Papers and important documents

Birth certificates, passports, insurance, legal documents

Prescriptions

Medication, eyeglasses, contacts

Pictures and irreplaceable keepsakes
Payment (credit & debit cards, bank cards, cash)
Go bag
Face masks or coverings
Extra clothing
First aid kit
Toiletries
Tools
Flashlight
Batteries
Sanitation supplies
Copies of important documents
Three-day supply of food and water
Evacuation Preparation 
If you live in an area that is not being evacuated, there are steps you can take now to prepare your home and family, if and when the time comes.
Create a "defensible space"

Clear your home's surroundings of brush and vegetation

Turn off sprinklers and main gas lines
Clean out roof and gutters
Move furniture away from windows toward the center of the room
Remove flammable household items
Prepare your emergency kit

Include useful items listed above in "Go bag"
For additional information on protecting yourself from smoke while addressing COVID-19 health concerns, Click Here. Be sure to check your local news and emergency alert radio stations and social media profiles for the most up-to-date information and helpful resources.
Wildfires are unpredictable. Knowing what to do both in preparation for and during an emergency evacuation will have your household prepared in the event that a wildfire spreads to your area, neighborhood, or home.
Posted on September 16, 2020 at 11:00 am
Windermere Colorado
Category:

Blog, Home Owner
Tagged

Defensible Space, emergency kit, Essentials, Evacuation, Go Bag, Homeowners, Preparation, Six P's, Threat, Tips, wildfires
Much of the Western United States is grappling with the same issue this summer – the specter of smoke and fire from some of the largest forest fires in recent memory. For individuals, even the decreased air quality can be a threat, while the destruction that the fires themselves can wreak is devastating. Homeowners living near impacted areas are often left with an impossible choice – pack up what they can and evacuate or remain in a dangerous location and hope for the best. Thankfully, homes needn't be defenseless against the heat. To help fortify your home against damage stemming from fires, we brought together advice from a few experts.
Opt for Flame-Resistant Walls and Roofing
It may be obvious but building a home out of non-flammable materials like brick, stucco, metal, or concrete is a key way to prevent a fire from taking hold initially.
The troublesome spaces tend to be beyond the core of the home. Decks, balconies, and overhangs all commonly include wooden components that can be easy points of egress for embers.
Replacing or coating these accent points with fireproof materials is a short-term expense that, much like insurance, prevents far greater financial strains in the future.
No Space is Too Small to Protect
Think that little vent in the attic is too small to be an issue? Think again!
Even vents built into kitchens and dryers should be considered as potential problem areas. Protecting these can allow continued circulation of air without incurring an excess fire risk.
Wire screens with 1/8th" to 1/4th" between screen bars are typically enough to keep treacherous embers from sneaking into your home.
Fortify Your Windows
The most vulnerable spots in most homes are glassy exterior windows. While their views are understandably gorgeous, they can be easy pressure points for fires to overpower.
If you have the means to replace single-plane glass with wire glass or fireproof safety glass, that's a worthwhile expense to ensure neither flames themselves nor radiant heat can shatter into your home.
Beyond simply upgrading the glass, installing retractable fireproof exterior panels is the safest route to fire protection. And don't forget your skylights!