Summer is the season of spending long days and nights out in the backyard and making home-cooked meals on the barbecue. Whether classic BBQ dishes like ribs and hamburgers or skewered grilled vegetables are more your style, these tips will help get your backyard in prime shape for grilling season.
Designing Your Backyard for BBQs
Some homeowners may choose to make their barbecue the focal point of their backyard, while others view it as something to accentuate more central features like a deck, patio, or outdoor kitchen. The grill alone will take up significant space, not to mention the crowd it can attract. With that in mind, avoid situating it in areas of high foot traffic, such as near the stairs of your deck or along a main walking path. You should also provide ample room between the barbecue and your backyard seating.
A simple charcoal grill is ideal for small spaces. It also allows you to be flexible with your barbecue setup. If you are hosting a gathering, you can simply move the grill if need be and rearrange your backyard to accommodate the occasion. Built-in barbecues provide a more robust grilling setup, while freeing up space on the deck or patio. Though built-ins are typically more expensive than a standalone grill, they are a hub for outdoor entertainment. For homeowners who enjoy grilling in the shade, or those who live in climates where it sometimes rains in the summer, covered barbecues may be the way to go. Pergolas, canopies, and awnings are all popular options for providing cover. Outdoor kitchens are the most comprehensive grilling setup. With countertop space, a sink, and the barbecue all within reach, all the prep work for your cookout can be done outside, right next to the grill.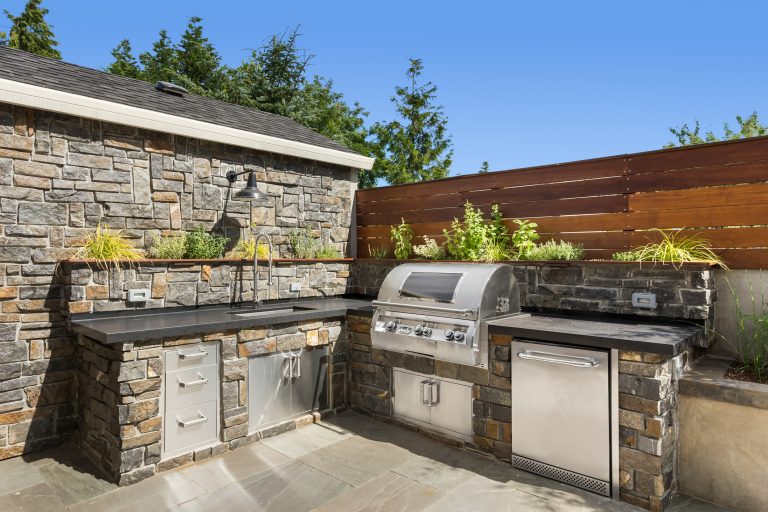 Once you've chosen the best barbecue for your backyard, it's time to start designing around it. The right combination of seating will add the social touch to your barbecuing setup. Bench seating is a popular option for barbecuing on the deck, while tables and chairs out in the backyard lawn create more of a picnic-style feel. Installing a fire pit will bring an added element to you outdoor entertaining, helping to make the transition from an afternoon or evening barbecue into a night spent under the stars. Experiment with different fire pit styles to match the surrounding elements of your backyard. For those with built-in barbecues and outdoor kitchens, consider matching your fire pit's stonework to tie the backyard together.
Image Source: Getty Images