The thought of upgrading a bathroom often brings to mind large-scale renovations, demolition, and hefty price tags. Even projects like replacing a backsplash or repairing tile can be more involved than you might think. However, it's possible to give your bathroom a makeover without breaking the bank (or your back). Whether you're looking to just freshen it up or make it feel like your own personal spa, these simple projects can help take your bathroom to the next level.
Upgrade your Décor
If you want to make a big splash without spending big money, consider upgrading your bathroom with new décor. A fresh coat of paint on the walls or a bold, patterned wallpaper can completely change the character of the space, while accent pieces like a new shower curtain and towel racks can reinforce your color choices. Installing shelving is a simple, functional tactic that gives dimension to your walls. Whether it's in the shower, above your toilet, or beside your vanity, a shelf can save surface space while helping to tie the room together.
Upgrade your Tub
Upgrading your tub doesn't have to mean buying a replacement. Simply refinishing your tub will have it looking brand new and helps you save money. Over time, tubs accumulate cracks, dings, and discoloration due to mold, but refinishing can cure these imperfections right away. Start by removing all hardware from the tub. Sand the whole surface, fill in any cracks or holes with putty or epoxy, then sand them smooth. Apply multiple layers of primer and topcoat, give it a buff, and enjoy your brand-new bathtub.
If refinishing your tub is too much to handle, consider simply touching it up. Fill in any cracks and apply a fresh line of caulking around the surface. After this is done, shop around for new tub hardware to polish off your cost-effective bathtub makeover.
Upgrade Your Vanity
With just a few tweaks, you can turn your vanity area from a mirror with counter space to an impactful centerpiece. Instead of going all out with a new cabinet install, simply replacing your cabinet hardware and drawer pulls can make a big difference. Think of ways your new hardware can reinforce the style of your bathroom. Match them with your shower rod, faucet, and showerhead to make your bathroom more eye-catching.
Your vanity also offers a great opportunity to add some color to your bathroom. Giving it a fresh coat of paint will help to liven up the space at a low cost. For wooden vanities, a re-stain is a great way to give them new life. Start by removing the doors and drawers. Apply wood stripping to all surfaces, then let them sit for the recommended time. Now you can begin to scrape away the old finish. Sand down all surfaces and apply the primer before staining the wood. Once your stain settles in, apply a second coat and your vanity will be good as new.
Finishing Touches
Well-organized surfaces and compartments will help to create serenity in your bathroom. Whether it's in the shower, the medicine cabinet, or below the vanity, look for multipurpose organizers that help cut down on bathroom clutter and save space. Add in natural elements like bamboo and river rocks to make your bathroom feel like a soothing sanctuary.
For more ideas on affordable home makeovers, check out our tips for upgrading your bedroom, home office, and kitchen.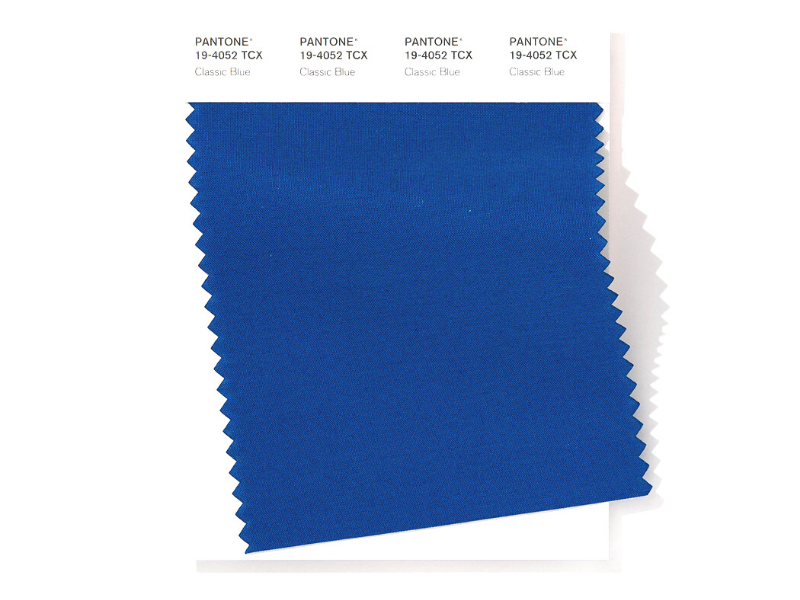 Classic Blue has officially been anointed Pantone's 2020 "Color of the Year".  Pantone says it picked this color because of its ability to instill calm, confidence, and connection as we cross the threshold into a new decade. A dependable color, Classic Blue is timeless, and enduring, making it a great addition to just about any room in your home.
Here are some ways to add this stunning shade of blue to your home:
Furniture
Add a splash of color to any room with Classic Blue furniture, such as these dining room chairs, which express a sense of tradition and elegance, as well as unexpected boldness.
Tile Work
Geometric patterns are all the rage this year, so why not liven up your kitchen backsplash with tiles that incorporate the color of the year? Here's an example that achieves this through bold, colorful design that doubles as a piece of art.
Cabinets
If geometric tile isn't your thing, the are other ways to bring your kitchen to life with this stunning shade of blue. If you're not in a position to purchase all new cabinets, simply paint your current cabinets for a more affordable update.
Walls
Whether it's built-ins, panels, or an accent wall, Classic Blue can make your furniture and décor pop. Consider this color when you paint your living room or bedroom as a way to encourage calm and confidence in your favorite spaces.